ABOVE is the first image I saw when I learned today that Vilks, 75, living under police protection for depicting "prophet" Muhammad as a dog (inset by me), had passed away . It was posted on the "About Pakistan" Facebook page. There was only one comment: "He has finally met the truth.

Vilks, according to Initiated, was placed under police protection in 2007 after receiving death threats for publishing the cartoon. At the time, Al Qaeda put a $ 100,000 bounty on his head and his house was set on fire.
Vilks, 75, was killed yesterday (Sunday) alongside two police escorts when a truck crashed into a police car transporting him to the town of Markaryd, where he lived.
Swedish police said today:
It is a very tragic incident. It is now important for all of us that we do everything possible to investigate what happened and what caused the collision. Initially, there was no indication that anyone else was involved.
At the time of the cartoon's publication, Vilks said he did not intend to offend Muslims, but wanted to make a statement on political correctness.
It's a way of expressing it. If you don't like it, don't watch it. And if you watch it, don't take it too seriously. No harm done, really.
Further defending himself, Vilks noted that he also portrayed Jesus as a pedophile.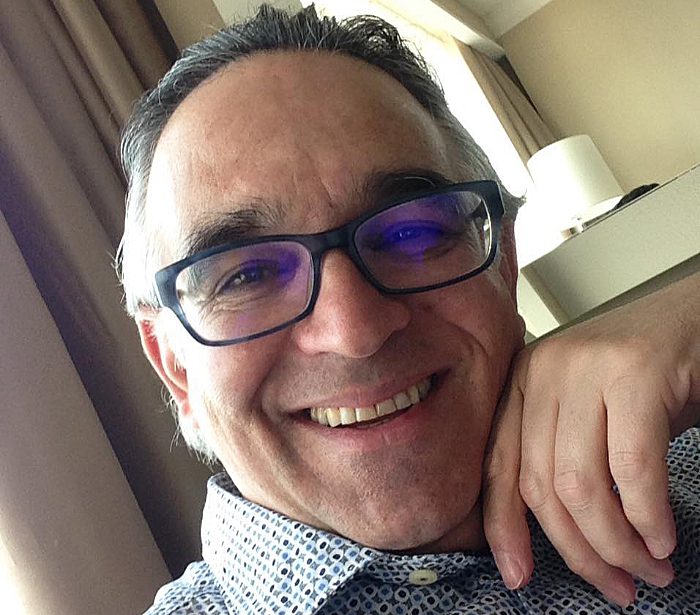 His death prompted a Facebook post by Fariborz Pooya, above, who pointed out that ex-Muslims gathered in Stockholm in June 2010 to condemn threats against Vilks by Islamic fanatics.
On Monday June 7, 2010, the Council of Former Muslims of Great Britain, Germany and Scandinavia joined Lars Vilks at a press conference in Stockholm to condemn the threats and violent attacks against the artist Swedish man who drew a caricature of the Prophet Muhammad. In May, Islamist thugs attempted to burn down his house after showing a film about Islam and homosexuality at a conference at Uppsala University.
The press conference was packed. It was chaired by Afsaneh Vahdat (Council of Former Muslims in Sweden) with Lars Vilks, Mina Ahadi (Council of Former Muslims in Germany) and Fariborz Pooya (Council of Former Muslims in Great Britain) all contributing.
Lars Vilks stressed the need to stand firm against the threat and restriction of freedom of expression and criticism of religion. Mina Ahadi said freedom of expression was the result of the Enlightenment and should be preserved.
Fariborz Pooya said Vilks was not alone in his fight against political Islam and called for "unconditional freedom of expression". He stressed the importance of distinguishing between Islamic states in their attempt to undermine freedom of expression and limit the right of citizens to free expression and the majority of those qualified as Muslims in European countries which are the first victims of this movement.
The press conference was widely covered by national media in Sweden.
Wikiwand provides a detailed account of how Vilks became one of the most hated figures in the Islamic world.
On June 11, 2007, Vilks was invited to participate in an art exhibition on the theme "The dog in art" which was to be held in the small town of Tällerud in Värmland. Vilks submitted three pen and ink drawings depicting Muhammad as a dog. At that time, Vilks was already participating with drawings of Muhammad in another exhibition in Vestfossen, Norway, on the theme "Oh, my God".
Vilks said his original intention with the designs was to:
Examine political correctness within the limits of the artistic community.
According to Vilks, the artistic and cultural communities in Sweden repeatedly criticize the United States and Israel, while "Muslim values" are rarely even questioned.
On July 20, the day before the exhibition opened in Tällerud, organizers decided to remove Vilks' drawings from the exhibition due to security concerns and fear of violence from Islamic extremists.
Following the first refusal to publish the drawings, Vilks submitted his drawings to the Gerlesborg School of Fine Arts in Bohuslän (where he teaches frequently) for a special teachers' exhibition which was due to open on August 18. On August 13, however, the school announced that it had also decided to reject the drawings for safety reasons. This second rejection sparked an intense debate in the Swedish media on self-censorship and freedom of expression.
In August, the Örebro regional newspaper Nerikes Allehanda published one of Vilks' drawings in an editorial on free speech. The editorial defended the "right of Muslims to freedom of religion" but also said that it should be allowed to "ridicule the most important symbols of Islam – just like the symbols of all other religions" . On the same day, the drawings were also published in several other Swedish newspapers, including Aftonbladet, Dagens Nyheter, Express and Upsala Nya Tidning.
This sparked protests against Sweden from Iran, Pakistan, Afghanistan, Egypt and the Organization of the Islamic Conference (OIC) which represents 57 Muslim countries. The IOC issued a statement in which it strongly condemned the publication of "blasphemous cartoons" of Muhammad. OIC Secretary General Ekmeleddin İhsanoğlu further called on the Swedish government to take:
Immediate punitive actions against the artist and the editors of the cartoon and asked for their apologies without reservation.
On August 31, Swedish Prime Minister Fredrik Reinfeldt said:
I think it's important to say two things. First, we look forward to ensuring that Sweden remains a country in which Muslims and Christians, people who believe in God and people who do not believe in God, can live side by side in a spirit of mutual respect …

We are also keen to defend freedom of speech, which is enshrined in the constitution and comes naturally to us, and which ensures that we do not make political decisions about what is published in the newspapers. I want to make sure we keep it that way.
In September, Reinfeldt met with ambassadors from 22 Muslim countries to discuss the issue. Reinfeldt said he had:
Explained how Swedish society works and that we do not have elected officials who make editorial decisions… it is an open country, a tolerant country.
On September 15, it was reported that the Islamic State of Iraq group had placed a bounty of at least $ 100,000 on the head of Lars Vilks and $ 50,000 on Ulf Johansson, editor of Nerikes Allehanda.
On March 9, 2010, seven people were arrested in Ireland for an alleged plot to assassinate Vilks.
In 2013, cartoonist Stéphane "Charb" Charbonnier was added to Al-Qaeda's most wanted list, along with Lars Vilks and three Jyllands-Posten staff: Kurt Westergaard, Carsten Juste and Flemming Rose.
In February 2015, shots were fired during a debate on freedom of expression in Denmark which Vilks attended. He left one civilian dead and three police officers injured. The assailant fled after a brief shootout with police and was then shot the next day after committing another shootout at a Jewish synagogue, killing one and injuring two policemen.
Hat tip: Robert Stovold
• Please report any typos / errors to [email protected]
If you want to buy me a cup of coffee – and boy, do I go through a PARCEL of coffee keeping this site active – please click on the link below.
i would like a cup of coffee